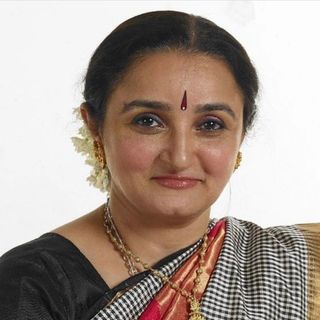 Dr. Sandhya Purecha, Sangeet Natak Akademi Awardee is a renowned Performing Academician, Bharatanatyam Guru, Performing Artist, Innovator-Choreographer, Prolific Writer and an Avowed Scholar – Researcher of Sanskrit vis-à-vis Indian classical dance. She is the Managing Trustee & Secretary of Sarfojiraje Bhosale B.N.T. & R. Centre, the Founder-Principal of the pioneering Bharata College of Fine Arts & Culture and Artistic Director of Kala Paricchaya, Mumbai. As his leading disciple, she carries forward the legacy of her Late Guru Acharya Parvatikumar under whom she learnt in the Guru Shishya Parampara.
Dr. Purecha received her doctorate in Natyashastra in Theory and Practice of Angikabhinaya in Bharatanatyam which has also been published in the form of a book. She has authored seven research-based books on dance including the first ever translation of Bharata's Natyashastra in Marathi and Gujarati with padadchheda and anvaya of the Sanskrit text, Theory and practice of Kalasa Karanas and Sthanaka Mandala Bheda in Bharatanatyam from Kumbha Raja's Nritya Ratna Kosh, Translation of Chapter 7 – Nrityadhyaya of Chatura Damodara's Sangita Darpanam, Acharya Parvatikumar – Nrityaditya and the Diploma Course book for students – Nrityawishkar.
Her innovative presentation of shastra (theory) and sampradaya (practice) has been described as a pioneering effort. She is also exemplified as the sole artiste in the world performing all the 324 verses of the Abhinaya Darpanam, an ancient Sanskrit text on dance written by Nandikeswara, in an audio-visual form. She has toured nationally and internationally with her pioneering research-based productions on diverse themes and texts.
An authority on classical dance and Sanskrit, she is affiliated to several universities offering her expertise as an Expert Advisor on the Academic Council and Board of Studies. She has been invited as a scholar to universities and for international seminars, conferences like International Conference on Natyashastra, IGNCA- Varanasi; WDA, Taiwan; Century of Indian Dance, Toronto to name a few and has delivered illustrative talks on dance to a diversified audience.
Awards:
National Sangeet Natak Akademi Award for Overall Contribution 2017 by Sangeet Natak Akademi, Govt. Of India.
Maharashtra Rajya Mahakavi Kalidas Sanskrit Sadhana Puraskar by the Govt. Of Maharashtra.
Maharashtra State Cultural Award by the Govt. Of Maharashtra.
Gujarat Gaurav Puraskar by Gujarat State & Gujarat Sangeet Natak Akademi.
Babasaheb Ambedkar Award to name a few.
Websites:
www.sandhyapurecha.com
www.bharatacollegeofdance.org
www.sarfojicentre.com