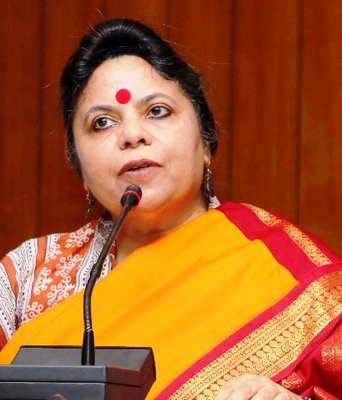 Dr. Jyoti Kiran is an eminent academic, economist and the ex-chairperson of the Finance Commission of Rajasthan. Her prolific career trajectory ranges from a distinguished academic and Development practitioner, to government advisory roles and chairing the State Finance commission (ranked as a State Minister), followed by corporate board membership and heading key committees across multiple corporations as an expert economist. Over the years, her deep commitment to gender equality earned her positions on the apex advisory committee of the National Commission for Women and UGC Standing Committee on Gender Issues.
She is a doctorate and a trained economist from premier institutes like the University of Rajasthan, Delhi School of Economics and the University of Huddersfield (UK). Her extensive specialization in employment, development policy and finance, energy economics and resource use economics reflects through several of her publications and presentations.
She was appointed as the first ever woman chairperson of the State Finance Commission, Rajasthan. Under her chairmanship (2015-2018) the Commission had worked extensively on the structural reforms in the field of devolution mechanism and finances of the Local Bodies and Panchayats.
She started her career as an Associate Fellow at the Institute of Development Studies, Jaipur (ICSSR). Later, she taught at reputed institutes like National Institute of Technology, Nagpur for about 12 years and after that worked in leadership positions in management institutes as Dean and Director in Jaipur. Additionally, she briefly worked as an acting Vice-Chancellor in a private University in the region.
Apart from being a professor & researcher, she has been an honorary advisor on various committees under various ministries ranging from Ministry of Rural Development, Ministry of Human Resource Development, Ministry of Women & Child Development and Ministry of Health, Government of India between 1998-2021.
Contribution as an Advisor
She has contributed as advisor to NCW in the economic empowerment committee and played a significant role in designing the framework for Gender Budgets for the central government. She has also played an eminent role as member of the central supervisory board PNDT in the ministry of health. As a member of CAPART she played an extensive role in water and sanitation committee initiatives of the Ministry of Rural Development. Her work on women, work and WTO and globalisation was taken as input for gender impact analysis of WTO by the ministry of women and child welfare, GOI.
She was a member of the UGC standing committee on women's studies, currently a member apex advisory committee for National Commission for Women and has been involved in policy suggestions to the GOI on women and development issues. Her contribution to the National Livelihood Mission again is as social development enabler.
Her expertise relates to the policy dynamics of development issues and decision science. She has designed an innovative participatory development program for youth participation in development and governance. As chairperson of the advisory committee of Yuva Vikas Prerak under the Directorate of Economics and Statistics, Government of Rajasthan, she initiated this participatory development program for young professionals in 2015 which has generated considerable impact in delivery of development outcomes and has been followed by some other States later. The program was pivotal and commended by Niti Aayog.
Her book 'Antyodaya – Rise of the Last' was the first ever book on 'Antyodaya' – a novel experiment in rural development, which was published by the UNESCO (1989). An author of three books and about 105 research papers, she has been contributing to academic journals and newspapers as an analyst and columnist. Her papers in BRICS seminar on Innovation in Decentralised Finance and in Houston India conference, 2019 on India's Growth Story were very well received.
Her book 'Navmatdata' was launched in The Jaipur Literature Festival in 2014, a first of its kind on capturing the thought processes of first time voters. An eloquent speaker – she has participated in about 1000 TV shows or in panels – latest in Outlook Speakout, India Today Conclave, Rising India Conclave, FIPPI Energy conference and Jaipur Literature Festival etc.
Youth development, skilling the youth for participatory development (Yuva Vikas Prerak) – She has demonstrated engagement with youth and young professionals for more than 25 years. She strongly believes that youth involvement in development and governance is key to comprehensive development of a nation and its economy.
In the NIT, Nagpur she devised skills for social development workshops which nurtured young professionals for social outreach work. This work later evolved into a project where aspirations of the first time voters and young population were measured and translated in a participatory governance model. Between 2012 and 2014 she had face to face connect through her campus connect program with about 3 lakh first time youth voters through town halls, development dialogues and her interactions with young professionals whose aspirations were portrayed in her book 'Navmatdata' which was launched in the Jaipur Literature Festival. This was a unique attempt to mainstream the aspirations of young professionals in development policy design.
The aspirations were translated into a policy initiative immediately after she took over as chairperson of the advisory committee in the Directorate of Economics and Statistics. She designed an innovative project on involving of youth in development and governance launched by Government of Rajasthan in 2015 as Rajasthan Yuva Vikas Prerak program (http://plan.rajasthan.gov.in/content/planning-portal/en/des/RYVP_2019-20.html). About 300 young professionals were trained by a training module designed by her on skilling for social development. The project was implemented under her leadership and supervision. After the 250 hour unique training module the professionals were placed on blocks as development facilitators for effective delivery of government schemes. She designed innovative courseware for youth's participation and development which was adopted by the Officers' Training Institute (OTS), Rajasthan for the training of young professionals.
The project made considerable impact on distribution of development outcomes and was implemented in program mode by the Government of Rajasthan and is so effective that the Congress Government is also continuing with it. It's a novel youth centric experiment in the field of participatory development which has enormous potential for enterprise and employment.
Corporate Governance Role
As a practicing economist she has contributed as board member and independent director to Maharatna companies like NBCC, HSCC and made a remarkable contribution in energy leadership through being on the Board of Petronet LNG the premier energy company and on the Indian Gas exchange. She has chaired various committees including the key committee like Audit and Nomination committee in the last 6 years .
Innovation and Impact:
Throughout her career she has consistently driven and delivered innovation across multiple disciplines with a focus on development initiatives and creating alternative conceptual frameworks for policy intervention.
Antyodaya – she was the first ever person to position antyodaya as a development strategy in economic literature and evaluate it as an intervention strategy as early in 1987. Later it was published by UNESCO.
(https://unesdoc.unesco.org/ark:/48223/pf0000086610)
Innovative devolutions formula and structural reforms – As chairperson of the Fifth State Finance Commission of Rajasthan, she worked on structural reform and designed an innovative formula for devolution which inherently combined performance and development needs of the local bodies. This was a new concept and was appreciated by other State Finance Commissions like Madhya Pradesh, Haryana and Chhattisgarh. Many important structural reforms to institute efficiency and incentives for delivery were introduced in the SFC reports to translate the spirit of cooperative federalism to the grass root. Both the Interim Reports of the SFC were accepted and implemented by the Government of Rajasthan.
India's growth story: an alternative narrative –
She is currently working on her new book 'India's growth story: an alternative narrative'. A part of her work was presented in Houston India conference, 2019 which was received very well. She establishes that the endogenous 'enablement' model introduced by the Central Government generates impressive results for the Indian economy because it's well aligned with the socio- cultural specificities of this civilizational nation.
As a columnist, she writes on the idea of a new and emerging India.